Kaizen-Muse
Creativity Coaching
CELEBRATING TEN YEARS of TRAINING CREATIVITY COACHES
AROUND THE WORLD SINCE 2004!
Simple Steps, Uncommon Results
Kaizen:

A Japanese word meaning "continuous improvement with small steps."

Muse:

A bearer of creative inspiration.
Kaizen-Muse Creativity Coaching™ (KMCC) is a trademarked model of creativity coaching designed by Jill Badonsky, M.Ed., with added elements from Dr. Robert Maurer and his book
One Small Step Can Change Your Life the Kaizen-Way
.
More »
Work with a Coach
The Kaizen-Muse Creative Coaching tools can help you move past blocks you may have struggled with for years. Blocks can include resistance, procrastination, lack of focus or follow-through, perfectionism, or immobilizing fear in any area of your life. The approach itself is creative and will cultivate your inner brilliance for whatever goal you have.
Work with a Certified Kaizen-Muse Creativity Coach and experience what clients around the world are talking about! Why wait? Set up a free introductory coaching session.


Become a KMCC Coach: Next Training Starts February 2015!
"Jill Badonsky's KMCC training course provides a fresh look at how to work with people momentarily seized by perfectionism, overwhelm, and/or procrastination...the Kaizen Muse Coaching methodology is brilliantly counter-intuitive and staggeringly effective...I'm humbled after nearly 20 years of active coaching to discover how to pinch both sides of the client's brain and watch the exponential results. The approach is fresh, irreverent, funny, fun and very, very effective. I love it" — Shirley Anderson, MS, MCC, IAC-CC
Jill Badonsky's Latest Book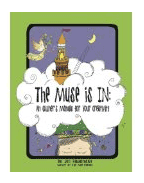 The Muse Is In: An Owner's Manual to Your Creativity by Jill Badonsky

The Muse Is In: An Owner's Manual to Your Creativity outlines how to power up one's genius, take it for a test drive, troubleshoot problems along the way, and offers tips for proper care and maintenance. With her dazzling illustrations and quirky humor, Jill Badonsky delivers the operating instructions for helping her fans spark their creative passion.



More Kaizen-Muse Tidbits