KMCC Training FAQs

Frequently Asked Questions
What is the Kaizen-Muse Creativity Coaching™ Training Course?
The KMCC Training is a 18-week on-line/on-the-phone course that trains individuals to become creativity coaches through a model that has been in operation since 1997. Through inspiring lectures, relevant reading, dynamic discussion, practice coaching, coaching observation, a rich on-line community, students understand and apply the philosophy, tools, and practices of KMCC. They learn the most common challenges to creativity and how these challenges are surmounted. They are also taught the basic logistics of setting up and marketing a practice through a non-traditional approach to business and client attraction.
Do Kaizen-Muse Creativity Coaches just work with creative individuals?
We work with individuals and groups who want to use creativity to live a more fulfilled life. We work with anyone who experiences procrastination, perfectionism, resistance, low self-confidence, fear and feelings of overwhelm as blocks to their creativity, their intentions, or experiencing the joy that is possible in life.
Our work goes beyond the scope of individuals interested in art and writing. Everyone could use this kind of creativity coaching as it provides life skills, a more joyous way of living, as well as creativity tools for pursuits, work, and life transitions.
Our coaching is called "creativity coaching" for two reasons: We work with people who love creativity whether it be writing, art or business building but we also work with anyone who wants to approach their life and dreams in a creative and intuitive manner.
What is the diffence between the KMCC training and other creativity coaching trainings?
That deserves a longer answer which is here.
How does the training work?
The training takes place in live, weekly, real-time webinars hour and a half and a rich on-line private Facebook community. We talk about the blocks to creativity: procrastination, resistance, pressure, perfectionism, self-talk, fear, and habits - where they come from and how to make creativity and living creatively easier.
Each student receives one-on-one coaching with Jill Badonsky, and practice coaching with a peer. There are rich readings which you apply to your own creative exploration during the course. Concrete tools and an engaging series of empowering questions are taught and practiced. The student learns to work with the fragile arena of creative ideas by using tools designed not to bring up resistances that linear, high-pressured, directive coaching triggers.
All classes are recorded on a private You-tube account in case you have to miss a class.
What is the difference between the KMCC Training and the Modern Day Muse Group Training?
The KMCC Training teaches you specifically to be a creativity mentor to other individuals. You will learn everything you need to know to work one-on-one with clients. Some people take the training for their own creative intentions because the value in doing this goes beyond the cost.
The KMCC training is more intensive than the Modern Day Muse Group Training. Students receive coaching and practice coaching with Master KMCC coaches.
Modern Day Muse Groups teach you how to run workshops — a single day, weekly, or monthly — based on the book The Modern Day Muses (and the Bodyguard): 10 Guides to Creative Inspiration.The journey using the Modern Day Muses is a step by step process that is designed to open individuals up to their creative gifts and equip them in a playful but practical way to break through creative obstacles. embrace, and follow-through with their creativity and those who go through the training also experience the journey. More about Modern Day Muse Groups »
All of that being said, both programs are wonderful. KM Creativity Coach Training is a more in-depth training that allows you to become a certified coach. The Muse Facilitator Training is much a lot of fun, but no less amazing, and certifies you to run Modern Day Muse Groups (Workshops).
What do I do if I am interested in the training?
Please or send an email to with your background and why you think the KMCC training is a good fit for you. This is to insure that this is the training you need to help you reach your individual goal.
Do I need a background in coaching or counseling or any special college degree to be a KMCC coach?
We do not require any particular degrees or experience with coaching or counseling — people without these often times benefit from starting fresh because this model comes from a unique perspective and is non-linear. We do require life wisdom, active common sense, passion for the creative process, people skills, and a sincere desire to inspire others to take steps toward their creativity.
Many life coaches, therapists, counselors, and other people professionals do benefit from adding these new tools to their practices.
Is there a payment plan, if so how does it work?
Yes, there is a payment plan for those who do not choose to pay the full price up front. $500 is the required deposit to hold your spot. We can then break the rest of the balance up into monthly payments which will vary, depending upon the month the payment is begun for a low fee.
Refund Policy
Refunds are given 2 months prior to the start of training only. There are no refunds after the 2 months prior to the training. There is a $25 administration fee for all refunds. If we are within twp months of beginning a training and you are unable to attend or complete the training, monies paid may be transferred to another class, workshop, or training at the discretion of the faculty within one year of the initial enrollment, less a $50 administration transfer fee. After that period, the deposit or tuition is non-transferable.
Is it possible for me to take the class if I am outside of the United States?
Absolutely. A recent class we not only had students from the United States (including Hawaii), but from Canada, New Zealand, Japan, and the UK. We have two calls a day so students in different countries can make a call that is at reasonable time according to their time zone.
When are the calls and how does the training work?
Our tele-classes give a twice a day option to accommodate time zones from all over the world. You only need to attend one class per week. Typically there is a call on Wednesdays from 11am to 12:30 pm pacific time/ 2pm -3:30 pm eastern and 4pm to 5:30pm pacific time/ 7pm to 8:30 pm eastern. The rest of the class is done interactively through a private on-line Internet Group that is set up specifically for the class. All homework, reference material, etc. are accessed through the on-line group. This also provides an amazing forum of rich and rewarding interaction for the class members to interact in. The support, exchange, and bonding have kept groups interacting for years after the training is over. Occasionally we change the day of the week the class is offered.
What if I can't make it to a call?
The calls are always recorded and available to listen to or download to your MP3 player within a day or two of the live class. They are posted onto the private class Internet Group and can be accessed throughout the entire training period and beyond.
How much work and time is involved?
Generally not more than 5 hours per week for calls, homework, practice coaching and emails. The amount of time spent interacting with the rest of the students group is up to you and can vary from week to week.
What books are required for the training?
A comprehensive and colorful KMCC e-manual is provided as part of the class curriculum, as is The Nine Modern Day Muses (and a Bodyguard), the rest of the books are purchased by you, preferably before the start of class.
Required reading includes (links & descriptions below)
T

he Muse Is In: An Owner's Manual to Your Creativity

by Jill Badonsky

The Nine Modern Day Muses (and a Bodyguard): 10 Guides to Creative Inspiration

by Jill Badonsky

Attracting Perfect Customers

by Stacey Hall and Jan Brogniez

One Small Step Can Change Your Life: The Kaizen Way

by Robert Maurer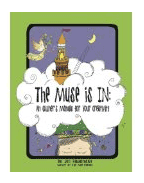 The Muse Is In: An Owner's Manual to Your Creativity by Jill Badonsky

The Muse Is In: An Owner's Manual to Your Creativity outlines how to power up one's genius, take it for a test drive, troubleshoot problems along the way, and offers tips for proper care and maintenance. With her dazzling illustrations and quirky humor, Jill Badonsky delivers the operating instructions for helping her fans spark their creative passion.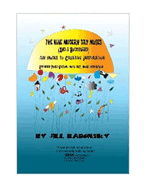 The Nine Modern Day Muses (and a Bodyguard): 10 Guides to Creative Inspiration by Jill Badonsky
This is the third edition of a popular book published in 2003 now updated expanded with new sections. These modern day Muses provide empowering, playful but practical tools and concepts, quotes and a dazzling experience of returning to, deepening or discovering ones creativity.

Note: This book is required reading for the KMCC course and is included as part of your training tuition.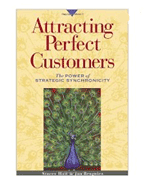 Attracting Perfect Customers: The Power of Strategic Synchronicity

Attracting Perfect Customers leads readers through a transformation as they learn that it is no longer productive or profitable to conduct business using warlike marketing techniques such as "targeting" customers and "outmaneuvering" the competition. These techniques seem both outdated and labor-intensive when compared to the Strategic Synchronicity process, which requires just five minutes of planning each day.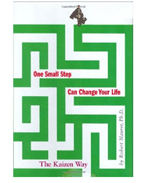 One Small Step Can Change Your Life: The Kaizen Way by Robert Maurer
Introducing the practical and inspirational guide to incorporating Kaizen and its powerful principles into one's daily life. Rooted in the two thousand-year-old wisdom of the Tao Te Ching — "The journey of a thousand miles begins with a single step" — Kaizen is the art of making great and lasting change through small, steady increments.
How long has the KMCC training been around?
Jill began the the Kaizen-Muse Creativity Coaching model in her own coaching in 1997 and has been training others for over 10 years since 2004. It has been growing and evolving in an ever expanding manner, touching lives and profoundly changing the way people experience their creativit, and gaining respect all over the world.
What's the history of the KMCC training?
Jill began her research with the creative process in 1980 and has applied that research to psychiatry, creative wellness, art, performance, writing, yoga, retreats, and program development ever since. She is a corporate drop-out with background in mental health psychiatry, program planning, and marketing.
Jill earned a BHS in Occupational Therapy and M.Ed. in Educational Media and Instructional Design.
Her creative successes include three internationally published books including the award winning, fully illustrated Awe-manac: A Daily Dose of Wonder and The Muse is IN: An Owner's Guide to Your Creativity, a free newsletter that has been circulating since 1998, numerous art shows, a one woman show, keynotes speeches and workshops — all of which brought up creative blocks that she systematically foiled.
Seeking coaching in 1995 to help break through blocks of procrastination and self sabotage, Jill found that the life coaching model blocked her with its linear goal setting, absence of understanding of the creative process, and disregard for the sensitivities, rebellious nature, and need for play of the creative individual. She felt a need for an intuitive, compassionate playful approach to her own challenges and as these challenges subsided she wrote The Nine Modern Day Muses (and a Bodyguard) and used elements from this book to design Kaizen-Muse Creativity Coaching.
Needing a way to convey the depth and effectiveness of this model she packaged the tools into the KMCC Ten Tool Kit and has trained hundreds of coaches who are now spreading the word as well.
Jill enlisted the expertise of Dr. Robert Maurer in 2004 and his work and teachings are now an integral, enlightening and fascinating aspect of the training.
Jill is also a certifed Yoga teacher and has taught in private,public, corporate, retreat and penal settings for over 25 years. Yoga philosophies come into play in the KMCC training.
Are you ICF certified?
Since 2004 we have been growing exponentially without the need to be tied to another organization. This is not a life coaching model, it is a creative approach that doesn't fit in the parameters of policies and procedures.
As a model of creativity, it's no surprise that we have a renegade spirit and are proud of it since we are seeing phenomenal results. The proof of this model's effectiveness is in the countless unsolicited testimonies of both students and clients. (Available on request).
Our KMC3 association stresses continuing education, constant attention to keeping up with the industry, and reliability. Being a part of KMC3 is not just a title and an annual fee but represents credibility and integrity. Creatively independent in our philosophy and approach, we are proudly a unique force.
More Answers about the KMCC Certification Training

KMCC Training Information Call from 1/13/10
"Answers about The KMCC Certification Training"
Jill is available for informational phone calls about the training:
Listen to an informational call about the Kaizen-Muse Creativity Coaching Training with FAQ and two short KMCC creativity coaching sessions. If you have any other questions, please contact us.
"Creativity can solve almost any problem.
The creative act, the defeat of habit by originality,
overcomes everything." ~George Lois