About Kaizen-Muse Creativity Coaching
Simple Steps, Uncommon Results
Kaizen: A Japanese word meaning "continuous improvement with small steps." Muse: A bearer of creative inspiration.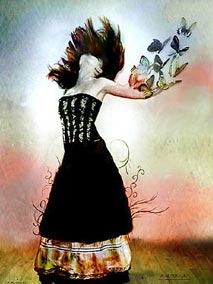 Kaizen-Muse Creativity Coaching™ (KMCC) is a trademarked model of creativity coaching designed by Jill Badonsky, M.Ed., with added elements from Dr. Robert Maurer and his book One Small Step Can Change Your Life the Kaizen-Way.
Simply stated, Kaizen-Muse Creativity Coaching is based on these principles:
To honor the non-linear process of creativity and elevate its joy.
To capitalize on the strengths, successes, and resources of the individual rather than dwell on perceived limitations.
To activate intuition, practical imagination, and wisdom through the 10 Kaizen-Muse Tools™ including tools from Dr. Robert Maurer's

One Small Step Can Change Your Life: The Kaizen Way.



To teach the power of small questions and creative foreplay.


To awaken or deepen the child-like spirit & its vital role in the creative process.


To bypass fear through gentle techniques & retrained self-talk.


To go beyond accountability and offer a dynamic experience in each client session.


To employ the rebelliousness and sensitivities of a creative individual rather than abandon them.


To enhance awareness of and therefore power over overwhelm, procrastination, perfectionism, self-sabotage, lack of focus, low self-confidence, difficulty making time, the many fears and other blocks related to the creative process.
KMCC works with individuals and organizations experiencing the following blocks to the creative process: overwhelm, disabling perfectionism, lack of focus, fears, procrastination, low self-confidence, unsatisfying habits, difficulty making time, negative self-talk.
KMCC draws tools from a book by Jill Badonsky called The Nine Modern Day Muses (and a Bodyguard): 10 Guides to Creative Inspiration.
There are ten tools within the KMCC Ten Tool Kit™
Awareness, Compassion, Education
The KMCC questionnaire™ may only be used by certified KMCC coaches. Awareness and education are tools that share that empower individuals to use the creative process.
Anchors, Comebacks, Reframes
The I-get-to list™
"So What I'll Do it Anyway!"™
Creative Foreplay™
Techniques to make getting to creative passions easier.
The 5% or 15 second Rule™
Small Steps, Small Questions, Small Rewards, Small Moments
per Robert Maurer's

One Small Step Will Change Your Life: The Kaizen Way

Credit Report™, Reminders, Positive Profiling™
KidStuff™
Techniques that elicit the child-like spirit and inspire motivation by making creativity fun.
KMCC Guided Imagery and Intuition Builder™
KMCC Containers including Parallel Universe Time™
KMCC Ten Tool Journal Keeping™
KMCC Exposure™
KMCC distinctive and original techniques provide a creative pathway which make the creative process easier, less fear driven, and more enjoyable for anyone including those who never before considered themselves creative. This model integrates the components of positive psychology with spirituality, common sense, and a deep understanding of what enhances the creative process.
KMCC results in the potent, yet gentle ability to sculpt the mind to think and act with the habits and beliefs needed for success in any niches where creativity is needed including but not limited to writing, art, painting, storytelling, songwriting, business building and marketing, and in simply living a more creatively joyfilled life.
Find out more about why KMCC works and which blocks respond especially well to this coaching model.
The sensitive, rebellious nature of a creative person or any person desiring change, as well as the elusiveness of creativity are honored in this coaching approach. KMCC's power also includes ways of bringing sabotaging behaviors and thoughts into awareness through with techniques that honor human nature. Tools that are creative themselves and often playful in design are then prescribed, consistently resulting in profound shifts in thought and action.
Clients of Kaizen-Muse Creativity Coaching Experience:
The rejuvenation and unlocking of the creative mind.
A greater ability to cultivate intuition, imagination, ingenuity through in-session experiences as well as the prescription of simple and clearly defined tools employing the novelty of amusement needed to stay interested.
Less frustration and more ease in achieving previously unattainable or seemingly elusive goals.
Success oriented habits that are then applicable to any area of one's life.
Greater productivity in smaller periods of time.
A new ability to translate ideas to reality.
Discovering that creativity is available to everyone and is a fulfilling part of everyday experiences.
Moving past obstacles once felt as insurmountable and embracing the wonder that creativity has no ceiling.
A life-long adaptation of creativity as an approach to life with the joy, reward, and the continual unfolding of fulfillment that is possible when these tools become habits.
The following elements constitute the trademarked parameters KMCC creativity coaching model: The right to use the trademarked terms "Kaizen-Muse Creativity Coach", "Kaizen-Muse Creativity Coaching", "Kaizen-Muse", "KMCC", and the tools in the "KMCC Ten Tool Kit" is reserved only for those who have completed the requirements of the KMCC certification training taught by Jill Badonsky or a designated trainer.