Spirituality and creativity can also elude me. Consistent with the popularly practiced bad habits of the masses, I can be inconsistent, distracted, lack follow-through, resist my good intentions, fold under pressure and comparison, procrastinate, fear I am wasting my time and my money, doubt myself, use cruel and unusual self-talk to sabotage both my spiritual and creative progress.
Yet on the other hand, when I partake in simple, creative adventures designed to be easy, irresistible and amusing, I more easily move past bad habits and acquire the same spiritual merits that bestow happiness.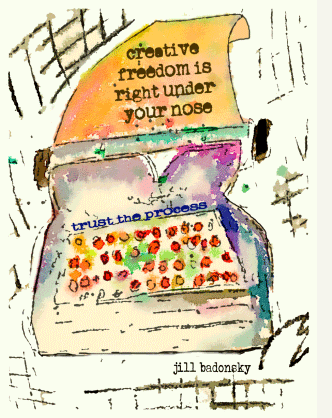 I discover that even as an imperfect human there ARE ways to maintain consistency, create habits of follow-through, persist without pressure, translate comparison to something more comfortable, and learn, little by little to trust the process and believe in myself.
When I do this in creative style: making associations, connections, altering reality, waxing imaginatively, beginning small and imperfect, and grooming an individual authenticity that lifts me out of the doldrums of convention, the contagion of cowardice, and the prevalence of blind cooperation to a small set of predilections, indefinable adventures carry me down a river of a timelessness, agelessness, it's a struggle free journey and I enter a territory of abundant bliss.
This is the province of Kaizen-Muse Creativity Coaching.