Kaizen-Muse Creativity Coaches
Find & Work with a KMCC Coach!
Coach Listings N-Z

Robin OK, M.A.
Certified Kaizen-Muse Creativity Coach; Laughter Yoga Leader; Teacher of Active Dreaming; Writer of plays, poems & blurbs
My full name is Robin O'Neal Kissel, so "OK" are my initials and they align with my philosophy, "I'm OK, you're OK," ok? :-)
In my companies, Laugh & Dream Creative Coaching and Creative Collaborative.US, I Create & Coach, Collaborate & Connect ... I give people permission to LAUGH & DREAM ... I encourage, inspire, trust, believe & shine. And I work (though it often feels like play) with Creatives and Creative Wanna-Be's — People who are up to being their truest, most authentic selves — writers, artists, musicians, dancers, business owners, entrepreneurs, stay-at-home moms (and dads!) — the list goes on because ... we all laugh, we all dream and we are ALL creative.

Maureen Perideaux
Certified Kaizen-Muse Creativity Coach, Writer, Artist
Are you doing the creative work you're meant to do? There are ways around your creative blocks – including perfectionism, procrastination, overwhelm, and not knowing where to start. When we work together, we'll find ways you can move forward with joy and delight. Plus, the tools you gain during coaching will be useful for years to come. For most of my life I have done creative work I love: writing and editing. In recent years, I have taken up drawing and painting simply for the joy of it. Now, as a creativity coach, I am thrilled to help people do more of the work that satisfies their souls.
It's my mission to help you ignite your ideas and do the work that makes you feel alive!

Nancy Pigno
Certified Kaizen-Muse Creativity Coach, Masters in Dance Education, Massage Therapy training, Certificates in Somatics Movement Therapy and Yoga
Having a life of CREATIVE ABUNDANCE is about connecting with and believing in your CREATIVE SPIRIT, the part of you that dreams big and believes that you can do whatever you set your mind and heart to. Nancy Pigno brings her training as a Kaizen-Muse Creativity Coach, in Kaizen-Creative NLP and as a Modern-Day Muse Facilitator together with her Masters in Dance Education, Massage Therapy training and Certificates in Somatics Movement Therapy and Yoga, to offer 1:1 coaching, workshops, and writings, designed especially for creative people with big dreams. She offers a holistic, gentle, and effective approach that helps creatives just like to you find clarity, create flow, and invite ease into their lives.

Robin Ritz
Certified Kaizen-Muse Creativity Coach, Business Administration, Management Training, HR & Sales, singer, lyricist, multi-media artist.
Having worked mainly in a male dominated industry, Robin understands the deep need for balance & encounters with Divine Feminine: Creativity. She lives each day bringing creativity, joy and beauty to any task. It is her honor to coach you in the Kaizen-Muse way to a new paradigm of successfully mastering your challenges & transforming unfathomable goals into reality.
She will help you learn to gracefully meld the efficiency of the left brain with the creative muses of the right brain, to bring play into work, and structure to art: the way a trellis allows vines to grow strong and tall with out taking away their true form and beauty.

Lisa Selow
Certified Kaizen-Muse Creativity Coach, Author, Electric Guitarist/Singer, Mixed Media Artist, Creative Spark Faerie
I use my intuition, humor, and compassion as a Creative Spark Faerie to gently coax your creative courage and inner child out of hiding, helping you to discover what works the best for you. I believe that you know your answers already, but coaching helps bring more clarity, fun, and ease to your path.
Let's help you enjoy the creative process, releasing procrastination, overwhelm, and perfectionism to create lasting changes, one small step at a time. You're already amazing, but let's help you to get unstuck and rock your creativity!
I work with musicians, writers, and artists, including multi-passionate creatives and others who want to create healthy habits, focus, and empowering, self-care practices.
I'm passionate about Kaizen-Muse Creativity Coaching because it's ignited amazing transformation in my own life! I look forward to working with you. Please contact me for a free, introductory 30-minute coaching session.

Chris Smith
Certified Kaizen-Muse Creativity Coach, Christian Spiritual Coach, Textile Artist, and Author
Wanna be authentically the person God created you to be, joyfully creating to your heart's content? How about a mindset and life where you can say: I am confident being myself. I get to live with purpose and enjoy my creativity. I'm blessed and blessing others.
Once a people-pleasing, approval-seeking, spiritually seeking, adrenalized attorney, Chris now enjoys living and creating in her home and studio on California's north coast. She knows the benefits of Kaizen-Muse Creativity Coaching, which brought her from an eight-year span of "I'm writing a book" to Reap As You Sew: Spirit at Work in Quiltmaking (WestBow Press, 2014). She finally gave herself permission to stop holding back, to pursue her heart's desires and do what she feels called to do, no matter what others think—Oh, what freedom!
Chris enthusiastically draws on her experience including certifications by the Monastery of the Risen Christ School for Charismatic Spiritual Directors and The Kingdom Ministries Training Institute, training in healing prayer through Christian Healing Ministries, as well as her journey to living her vision. If you're a woman facing creative blocks, spiritual resistance, and holding back, Chris invites you to join her in Heart-to-Heart coaching so you can be free to be your authentic, creative self—the unique work of art God created you to be—celebrating your unique creative expression.

Suzie Stambaugh
Certified Kaizen-Muse Creativity-Coach, Artist
Suzie Stambaugh, Artist, B.S.Ed. and Certified Kaizen-Muse Creativity Coach. Suzie integrates 40 years experience as an artist and a teacher into her Kaizen-Muse Creativity Coaching practice. She specializes in helping artists, baby boomers, and people "in transition" willing to face creative challenges and move through them with the incredible effectiveness of KMCC's small steps, compassion, imagination, play, and intuition. Suzie opens up a safe space for creative expression and co-creates an action track with her clients. In addition to her art and teaching, she is completing a Master's degree in Spiritual Psychology.

Diane Szwajkowski
Licensed Massage Therapist, USUI Reiki Master Teacher, Kaizen-Muse Creativity Coach, Muse Group Facilitator
Diane has been in private practice since 1993. She has been studying, practicing and teaching various stress reduction, relaxation, fitness and healing modalities for over twenty years. She provides services integrating the body, mind and spirit.
Diane seeks to use massage and coaching as a tool for transformation, not only opening constrained flesh and reluctant vessel but touching heart, emotion, spirit and soul. Creativity Coaching will allow her clients to use their creative dream and art to reveal something inside them, giving them a glimpse of their potential for greatness.
If you are interested in developing yourself and seeking a path of artistry in healing, I invite you to contact me.
"The sacred duty of being an individual is to gradually learn how to live so as to awaken the eternal within oneself." — John O'Donohue

Daisy Tse
Founder of Keylight Coaching, Professional Certified Coach (ICF), Kaizen-Muse Creativity Coach
Daisy is a leadership coach, who helps leaders in the Corporate World to inspire and lead from a place filled with vision, passion and compassion. She combines her leadership and creativity coaching to bring a unique blend of coaching approach that connects the head to the heart, the left brain with the right, the hard core business objectives with inspired personal purpose.
Daisy's coaching style has been described as relaxed and refreshing, sharp and shining, motivating and energising, helping her clients to see new lights and new directions in challenging situations, empowering them to be a "Sparkling Leader."
Omkari Williams
So, you're a writer, painter, dancer, some other kind of artist or, perhaps, just a truly creative soul and you are not doing the creative work that brings you joy! Well, that stinks! Telling your story into the world through your chosen art form, or simply through the way in which you live your life, is key to personal fulfillment.

My mission is to help you make that happen.

A couple of really fun decades as an actor and a few far less fun years coaching Fortune 500 execs and national politicians in successfully telling their stories has led me back here. To helping creative people just like you (and me) bring our stories into the world.

Using the gentle, playful, profound, and powerful tools of Kaizen-Muse Creativity Coaching you and I will dismantle the obstacles between you and the story you have to share with the world. Life is so much better when you aren't hiding your proverbial light under a bushel.

So if you are feeling stuck or unclear, get in touch. I can help.


Website:http://www.omkariwilliams.com/
Cyncie Winter
Certified Kaizen-Muse Creativity Coach, a psychotherapist, and professional artist. Faculty member at the Therapeutic Writing Institute/Center for Journal Therapy
Cyncie believes that our creative expression can enrich our life's purpose in a vital way, and that it is important to kindle and nurture that essence within us. As an artist herself, working with artists and writers for years, Cyncie knows what it means to navigate the challenges and joyful potential of a life devoted to creativity.  She brings skills of deep listening, intuition, wisdom, warmth, and compassion to the collaborative process, to help you discover the creative gifts within yourself and bring them into the world.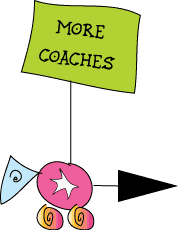 More Coaches (Master & Listings A-N) »